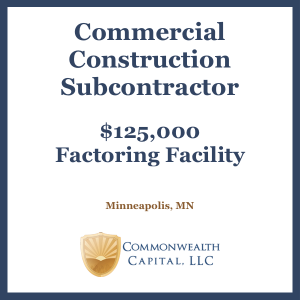 Minneapolis, MN, June 25, 2013: Commonwealth Capital, LLC, a leading provider of invoice factoring to businesses in the Upper Midwestern United States, today announced that it has provided a $125,000 factoring facility to a Minnesota-based commercial construction subcontractor. The invoice financing will provide the working capital the growing Company needs so they can meet their payroll easier.
Based in the Twin Cities, the Company provides construction services to general contractors on commercial construction jobs. In construction payment terms are typically 45 to 60 days. The Company's main expense is payroll, and the Company needed working capital to fund payroll while waiting for invoices to be paid. With few assets outside their accounts receivable, traditional bank financing was not an option.
"The Company was significantly growing their business and needed a partner that could provide flexible working capital. We are really excited that they chose Commonwealth Capital to factor their invoices," said Ben Van Zee, President of Commonwealth Capital.
With Commonwealth's factoring facility in place, the Company is easily able to meet the payroll needs of their business while continuing on their growth path.