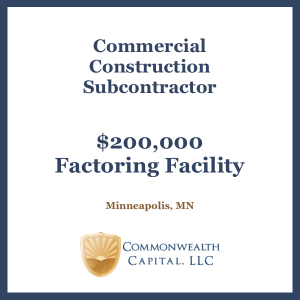 Commonwealth Capital, LLC, a leading provider of invoice factoring to businesses in the Upper Midwest, today announced that it has provided a $200,000 factoring facility to a Minnesota-based commercial construction subcontractor.
Company Description and Needs
The minority, woman-owned, startup commercial construction subcontractor was in need of additional working capital to grow their business. The Company is well-positioned in the market and its principal is passionate about providing quality jobs to minority workers.
The Company had an SBA loan, but knew its needs were going to surpass the line of credit due to the contracts it had signed for summer work. The Company had more jobs than it could meet payroll for, due to their limited line of credit. The Company was in need of working capital that could grow as its contracts expanded throughout the construction season, but would not be a debt-service burden during the slower winter months.
The Challenges
The SBA line of credit was not able to grow to match their growth because the business was still in a startup phase and had limited equity and business assets. With 60 day payment terms in construction, the Company was often in a cash flow crunch as it worked to meet payroll every two weeks. Eventually, the Company had drawn the maximum amount on their line of credit and was stuck. The more the Company grew, the tougher its cash position became.
The Solution
However, the referring bank then became more creative. The bank decided it would be even more flexible in ensuring the Company could continue growing. The referring bank provided the Company, its customer, with a home equity line of credit against one of the residential properties. The proceeds of this home equity line were used to pay down a portion of the SBA loan. Commonwealth was then able to pay down the remaining balance of the SBA loan from the proceeds of factoring the Company's receivables.
How Factoring Helped
By moving from the SBA loan to factoring their invoices, the Company was able to generate $50,000 in additional cash. With a $200,000 factoring facility, the Company now has the cash needed to pay their employees and suppliers. By working with Commonwealth Capital, the Company also has an extra set of eyes watching their outstanding invoices, ensuring it is invoicing for the correct amount, and following up on the invoices, making sure the invoices are paid in timely fashion. This has freed the owner's time to be out bidding on more jobs and spending less time on the administrative work.
How Factoring Can Help the Bottom Line
The Company can also use the cash generated from factoring their receivables to earn discounts by purchasing material in bulk. Another way the Company may save money is through early-payment discounts with their vendors because it has cash on hand instead of waiting 60 days for payment on their invoices.