Today I was doing some research on the state of the Minnesota economy as a part of my business planning. As I was reviewing the Department of Employment and Economic Development's (DEED) website, I saw an interesting article about the state of trucking jobs in Minnesota. The March 2014 issue of Minnesota Economic Trends Magazine had many interesting facts about trucking employment in Minnesota, including:
"almost half (45 percent) of the [transportation] industry's jobs are in truck transportation and in transit and ground passenger transportation."
trucking jobs are expected to grow almost by almost 30 percent from 2010–2020
there are about 32,000 heavy & tractor-trailer drivers in Minnesota
The data in this report backs up what I've seen recently when driving around greater Minnesota. It's a common sight to see billboards advertising trucking companies looking to hire company drivers and owner-operators. These advertisements often mention that the company has generous signing bonuses.
While I was going through DEED's website, I also came across an interesting tool, DEED's Occupations in Demand Tool. This tool forecasts the most in-demand careers in Minnesota until 2020. Driving a truck is #4 on the list!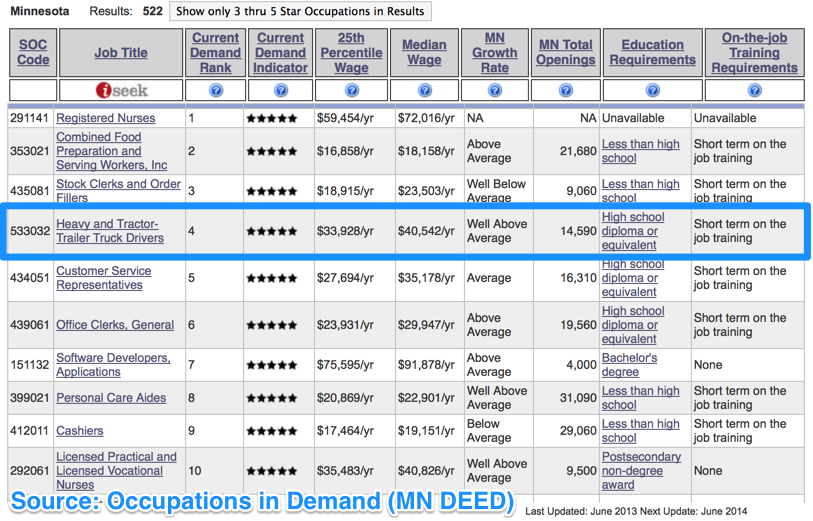 The outlook for truckers that are either leased-on to a larger company or are company drivers continues to look up, but there is also a strong need for smaller trucking outfits. Whether it's a small fleet with up to 10 trucks, or simply an owner-operator, the American economy needs small business to keep its engine running. Of course, if you are a small trucking company and are in need of factoring, we'd love to help.